If you feel life is better in hiking boots and enjoy the thought of walking in the wilderness, camping out, bonfires and star gazing – then this, my friend, is a tailor made list for you! When in Dharamshala, take on these amazing treks to escape the city woes, into the wild!
1. Triund Trek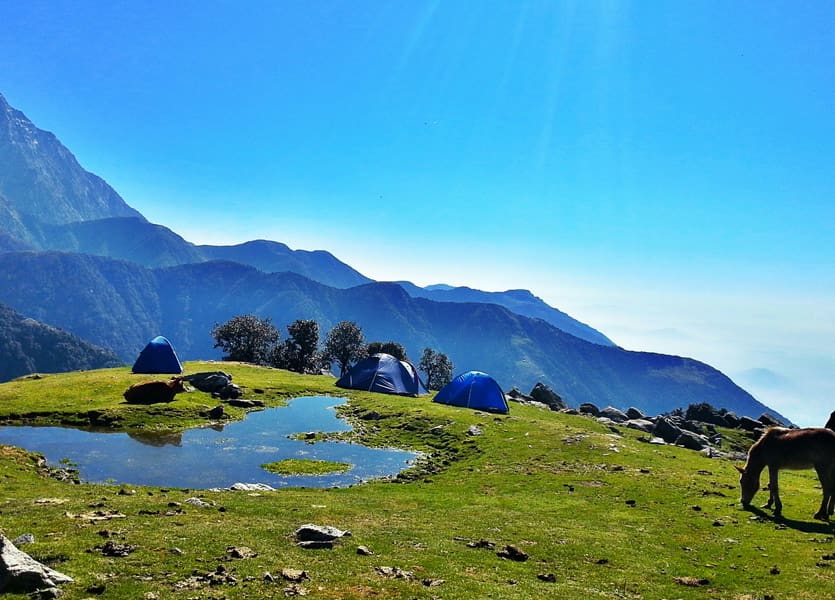 If you want to go on a serene and an easy to moderate trek then Triund is ideal for you. The scenic route gives you plenty of opportunity to enjoy the beautiful valley and not just that, you can enjoy a range of other activities like mountain biking and camping out in the wild in good company.
Distance From Dharamshala | 6.8 Kms
2. Kangra Valley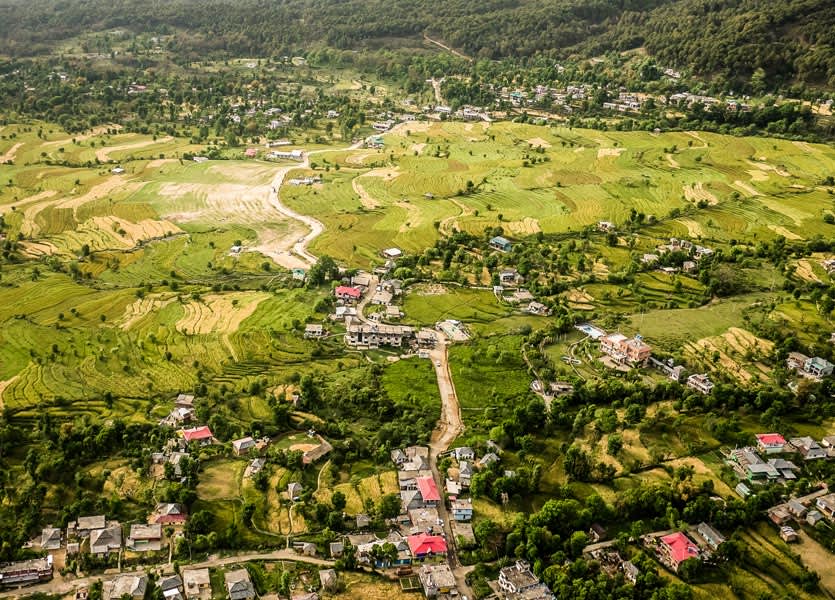 The magical Kangra Valley has everything to offer, from beautiful architecture to mystical streams & lakes which makes the experience all the more magical. The ardent trekker can enjoy all the awe-inspiring views of the range and also enjoy camping!
Distance From Dharamshala | 27 Kms
3. Indrahar Pass Trek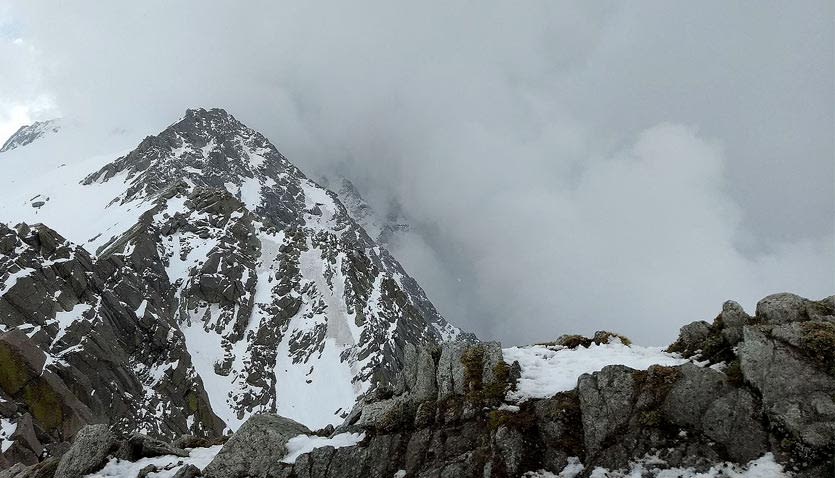 One of the most popular treks, the high rocks of the endlessly fascinating range and the untouched beauty allures you on the Indrahar Pass trek. It offers a series of adventure activities like trekking, camping and cave exploration and the way up is filled with gushing rivers and panoramic views for that perfect photo!
Distance From Dharamshala | 10.2 Kms
4. Hike to Bhagsu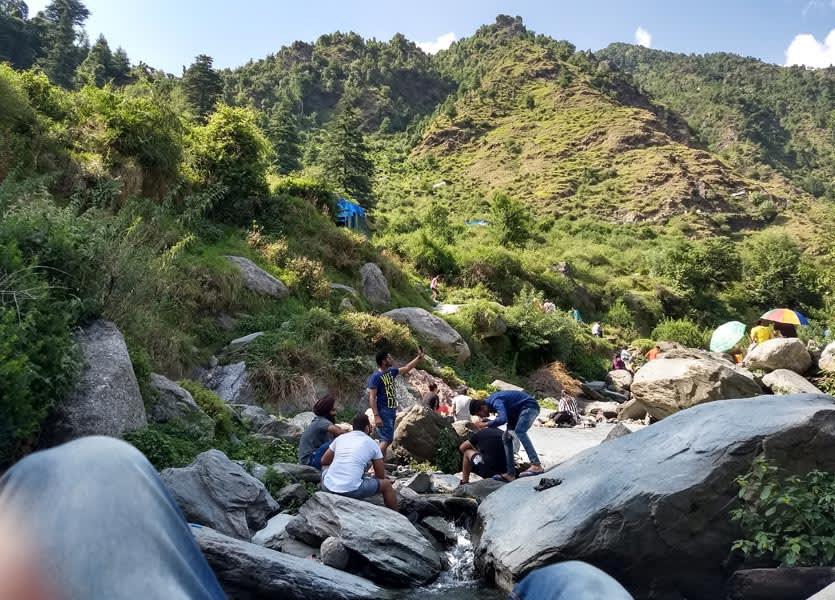 The hike to Bhagsu Waterfall will make you admire the lush green valleys and the cascading waterfall that will make it all the more worth it. The place is known for its Shiv Temple, Shiva Cafe and the exhilarating views.
Distance From Dharamshala | 4 Kms
5. Kareri Village Trek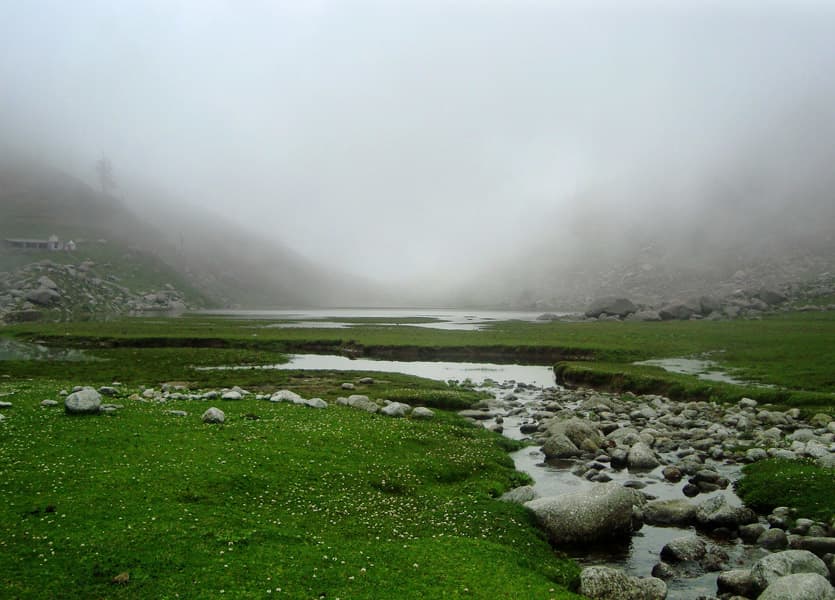 Picture Credits: Nomadic Memories 
The serene and alluring trekking destination is home to the beautiful Kareri Lake and in most places, the lake bed can be seen and hikers can even carry their own tents and camp besides the lake as well. The beautiful Pir Panjal Range on the top makes for a spellbinding sight!
Distance From Dharamshala | 11 Kms
Here Are Some Rad Tour Operators To Check Out :
http://www.dharamsalatreks.com
Some memories are unforgettable, such is the journey of a trek so head out!
NEXT ARTICLE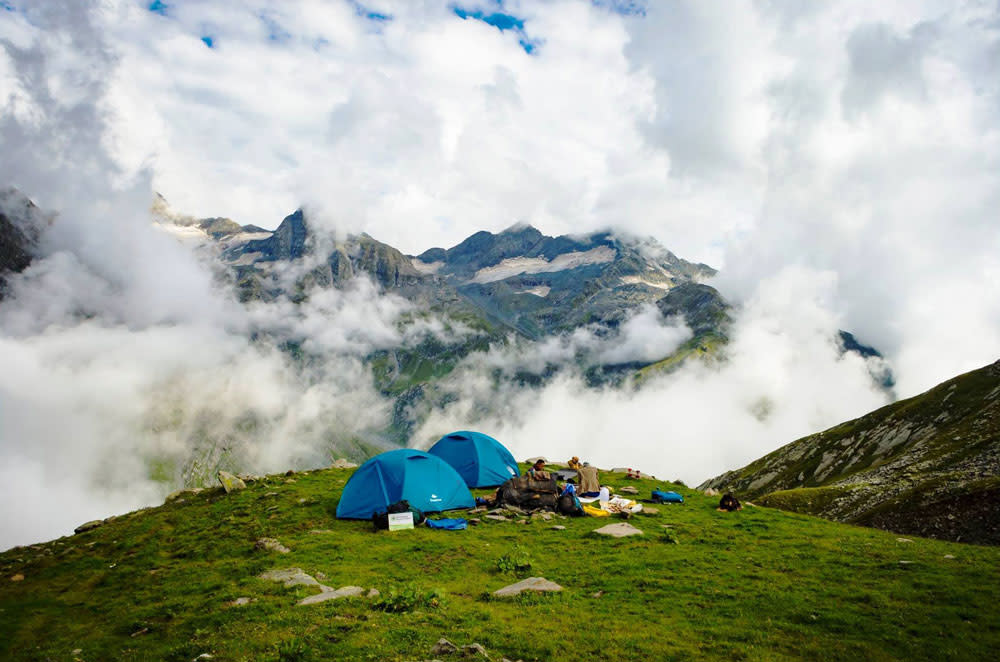 Embrace The Wild With The 5 Best Camping Sites In & Around Dharamshala
The smell of toasted marshmallows and firewood, star gazing and the melody of birds… these are some of the things we love about camping! And so here are some camping sites that will make you embrace the wilderness in all its beauty!
1. Camp Lungta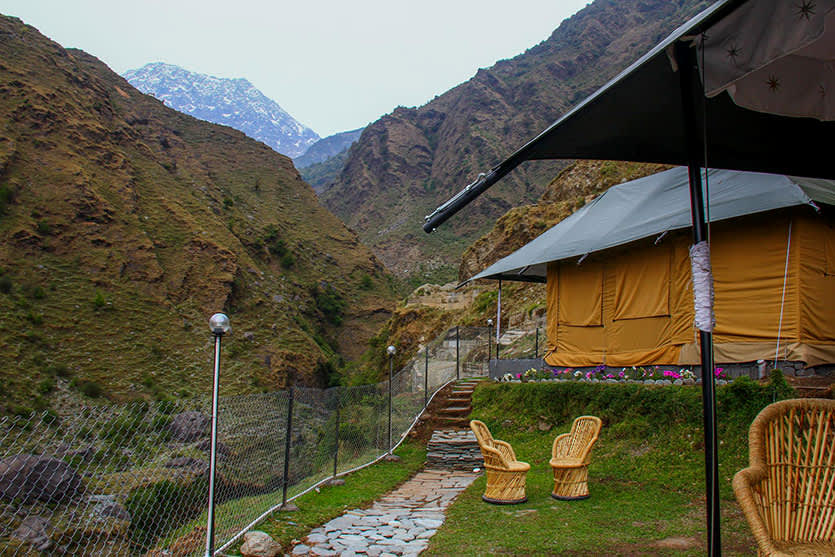 Nestled in the foothill of the snowy Dhauladhar, Camp Lungta is a luxury camping destination suited for fam and friends amidst the mountains, valleys, rivulets and jungles! The camp features 12 luxury tents with attached bathrooms and covered verandahs. You can also enjoy a barbecue and various activities like trekking, golfing, cycling and even fishing.
Where | Lunta, Distt Kangra
Check Out Their Website | http://camplungta.com
2. Triund Valley
Triund is a very popular easy to moderate trek that all nature lovers should take on. The valley offers the most picturesque views and usually at the end of the trek people camp on the hilltop to enjoy some stargazing and the most beautiful sunrise. It's a must do!
Where | McLeodganj

3. Billing Valley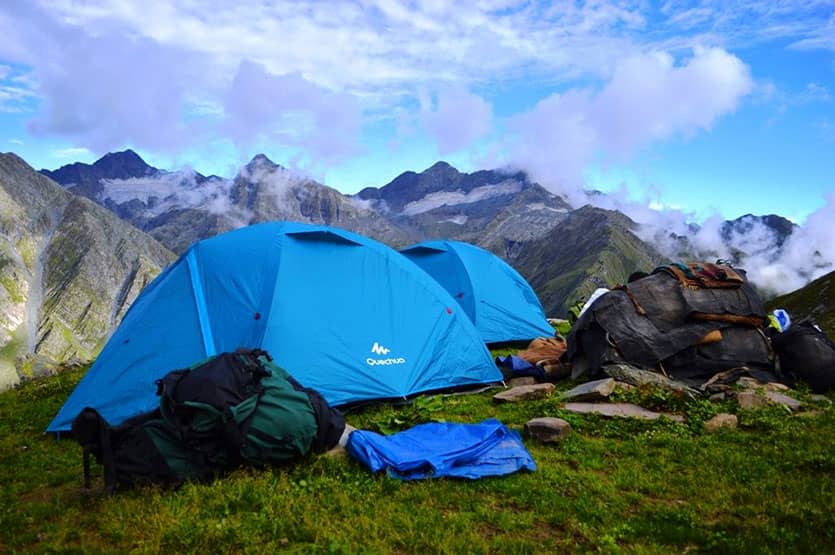 Billing is known for its panoramic views and is a paradise for paragliders, being the world's 2nd best paragliding site! It offers interesting activities like trekking, hiking and the beauty of the Tibetan culture that surrounds the valley. The bonfire, music & camping out in the company of the hills is an unforgettable experience!
Where | Bir Billing Road, Biling
Check Out This Camp | http://www.travelbirbilling.com/tours/camp-oak-view-bir/
4. Snow Monk Camp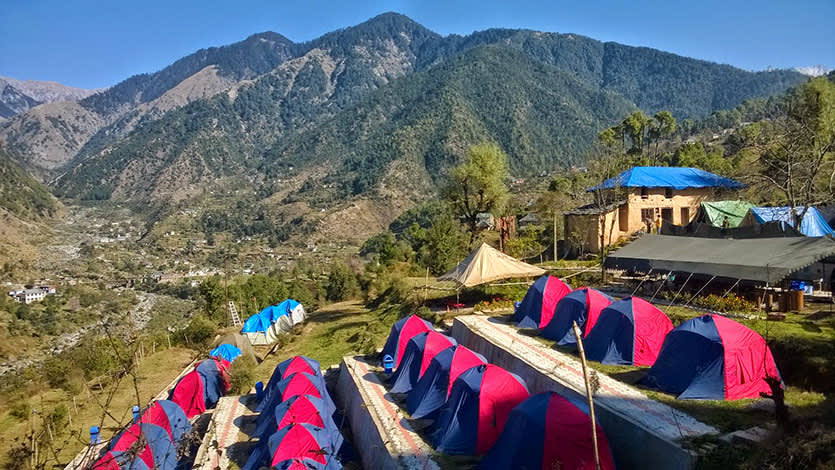 The snow monk has many treks starting from Dharamshala to Indrahar Pass, Triund and Kareri. It's located in the heart of Kangra Valley and offers many other activities like zip lining, rappelling and rock climbing which makes it a must experience.
Where | Village Salli, Tehsil Shahpur Kangra
Check Out This Camp | http://www.snowmonkcamp.in/
5. Barot Valley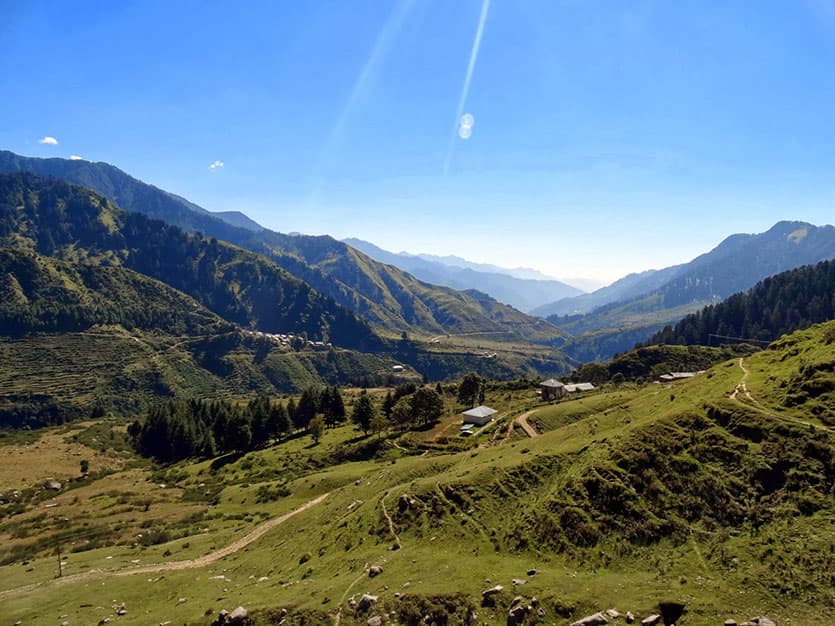 What makes Barot Valley special other than the beautiful landscape is that it's undiscovered and away from all the hustle bustle of the city life. The views around are splendid and the activities are endless, from trekking to mountain biking to trout fishing and more! Camping in the valley near the river and under the mountains is every bit worth it!
Where | Tehsil Padhar  Near Jogindernagar, Mandi
Check Out This Camp | http://www.barotcamp.in/
So get those trekking shoes out, pack your camping gear and head to the most mesmerising places yet
NEXT ARTICLE
5 Whimsical & Pretty Hillstations Perf For Day Trips To Take From Dharamshala
These stunning places around Dharamshala make for the most magical day trips, with snow capped glaciers, paragliding, pretty hill stations and everything in between – we have you covered!
1. Palampur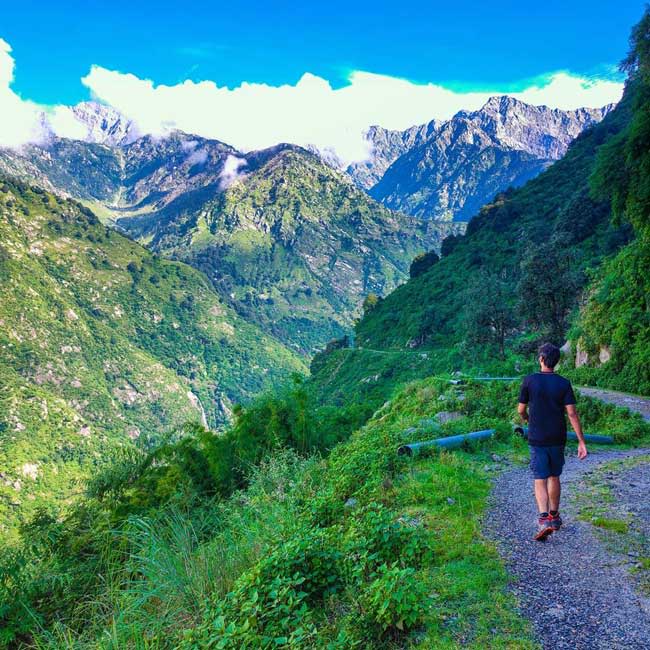 Picture Credits: nausikhiya_kathakar
Palampur is a lush town with a few tea gardens enroute where you can take a pit stop and so the place definitely makes for a good day trip. At just a short drive (roughly 13 kms) from Palampur is Andretta Artists' Village established in the 1920s which has attracted many artists, theatre practitioners, painters & potters so don't miss out on it!
Distance From Dharamshala | 35.2 Kms
2. Bir Billing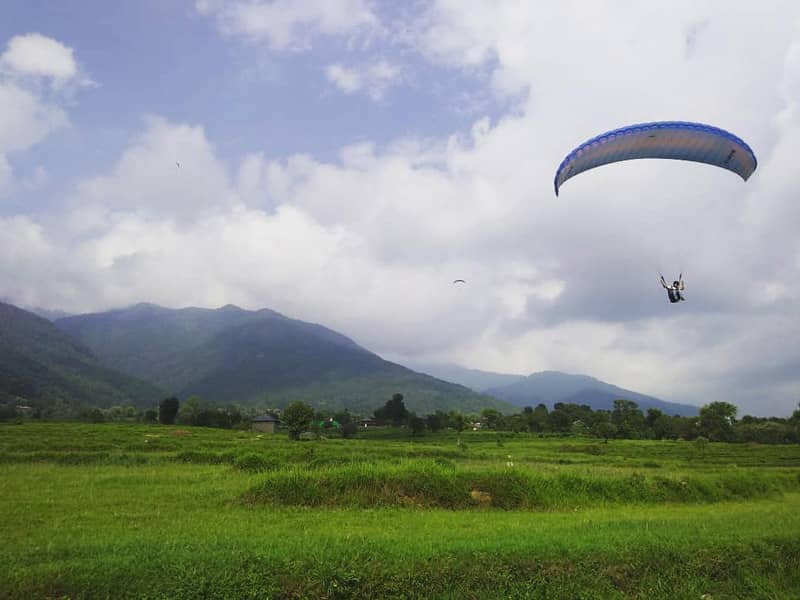 Picture Credits: travellingpahadi_
Looking for a trip to the clouds? Then head out to Bir Billing for a thrilling paragliding adventure. With only a distance of two hours from Dharamshala, this gem of a place must be on top of your bucket list. Take the plunge and travel up, up and away with this once in a lifetime experience.
Distance From Dharamshala | 64.9 Kms
3. Barot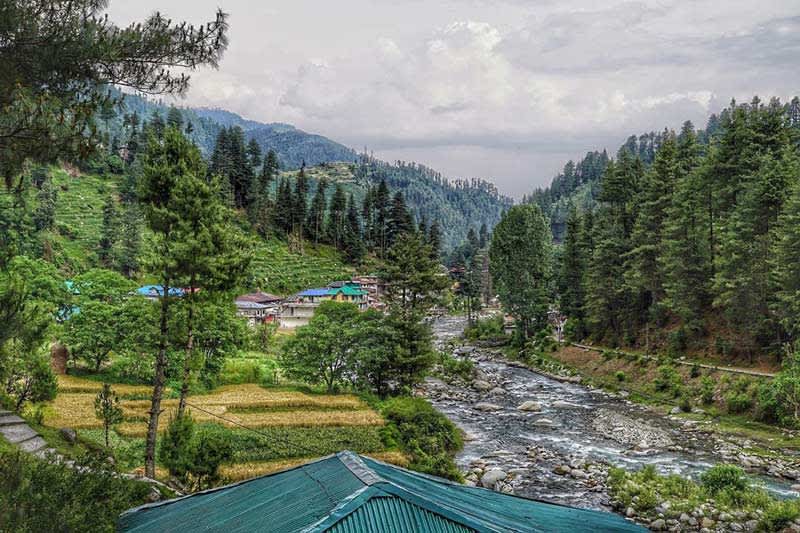 Picture Credits: sidcrossroads
Approximately lying 4 hrs away from Dharamshala, this bountiful hill station with snow capped mountains is known for its Trout Fish and to die for views! Once here, you can even take on various adventure activities such as paragliding, angling, mountain biking etc.
Distance From Dharamshala | 111.1 Kms
4. Dalhousie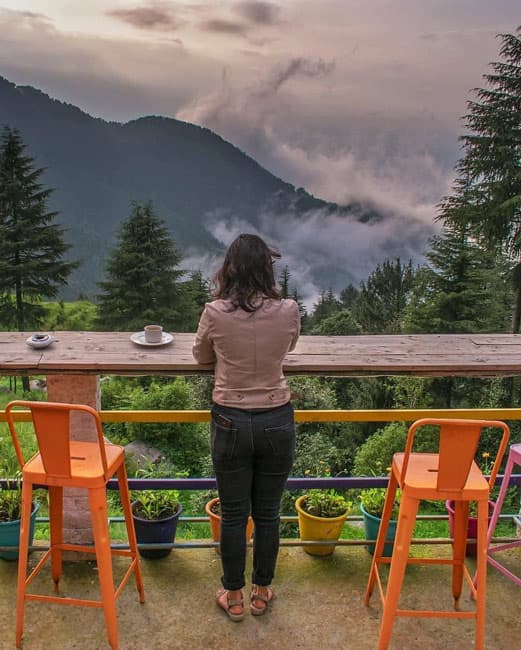 Picture Credits: radhika_nomllers
Named after Lord Dalhousie, who was once the British Governor-General in India, this place was established as a summer retreat. It's built on and around five hills and is the perfect place to take those insta worthy pics to brag about!
Distance From Dharamshala | 116.9 Kms 
5. Chamba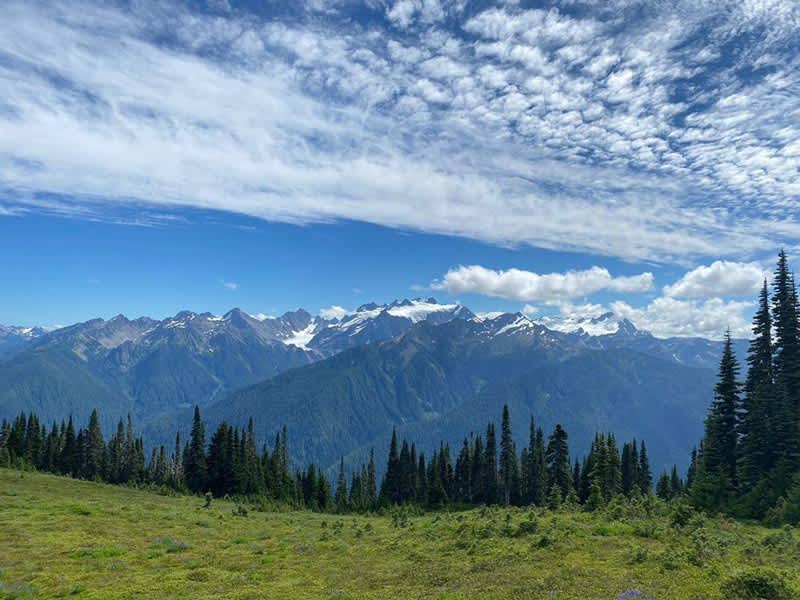 Picture Credits: mountain9305
The quaint little old town of Chamba with its grassy fields and bustling markets is a must visit for it has many things to do from numerous temples & palaces, arts & crafts, handicrafts & textiles etc. Plan that day trip ASAP and head on out!
Distance From Dharamshala | 133.7 Kms
So hit the road ASAP!
NEXT ARTICLE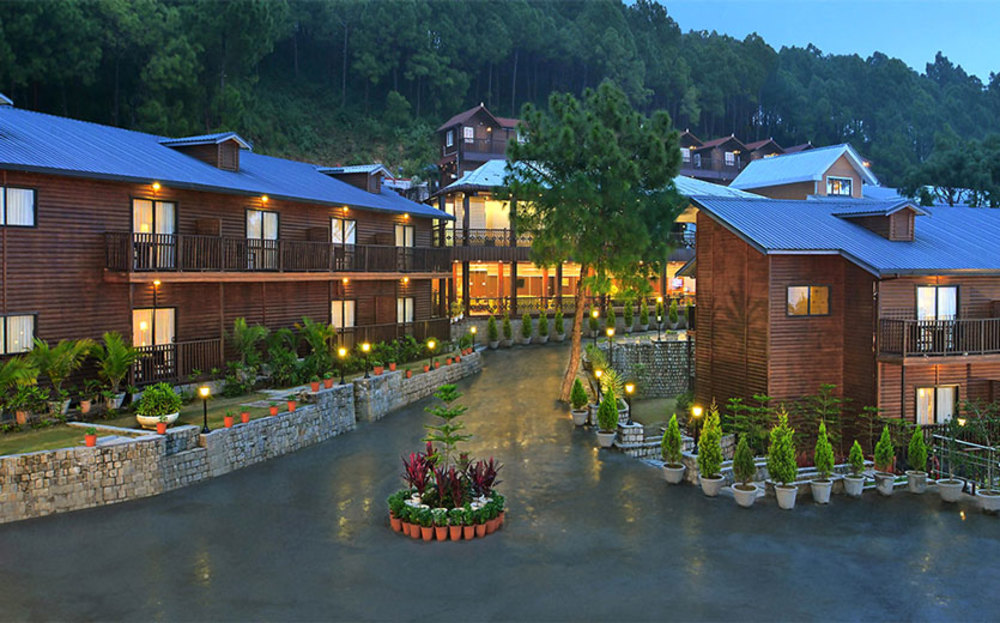 Plush & Offering Spectacular Views, These Are The 7 Best Hotels To Check Into @ Dharamshala
Looking for the perfect place to check into amongst the beauty of the hills and all the serenity! Well we have you sorted with this list of resorts & hotels in Dharamshala that will leave you rejuvenated! So pack you bags and make your bookings NOW.
1. The Pavilion Dharamshala by HPCA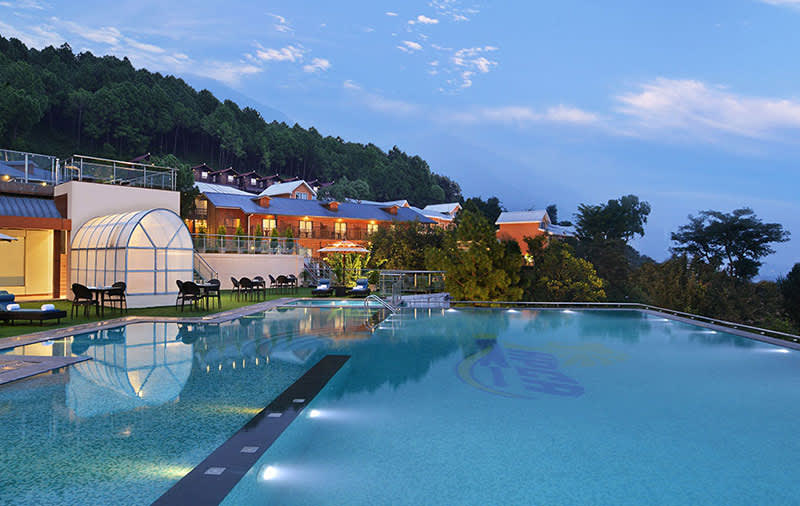 Pamper yourselves at this stunning property at the Pavilion Dharamshala! Spread over an area of 9 acres, with 93 rooms, the Pavilion Dharamshala is a tribute to the gentleman's game of Cricket, with many cricketers and guests opting to stay here during matches! With an infinity pool, a sumptuous buffet breakfast and beautiful rooms, you really can't go wrong!
Where | Village Kandi, Post Office Khaniyara,Tehsil
Browse Through Their Website | http://thepaviliondharamshala.com
Contact Them On  | +91 18 9224 6006
2. Aveda Hotel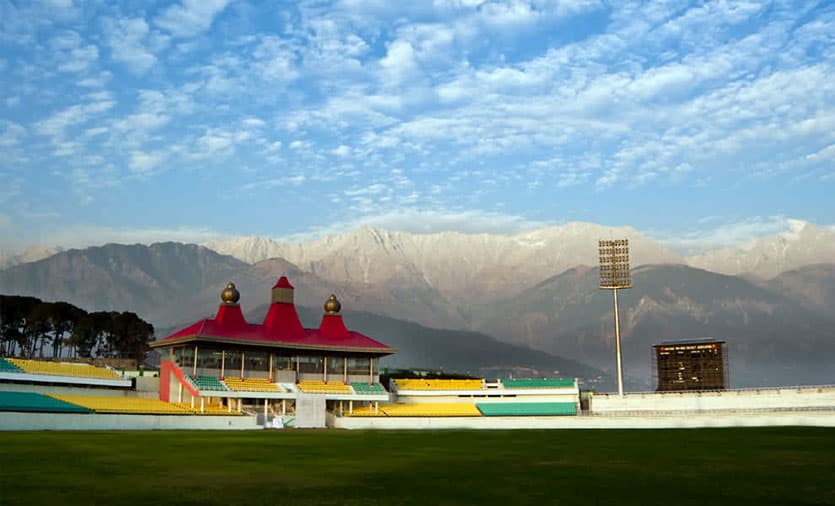 This resort redefines luxury living with an awe-striking view of the cricket stadium. The place has 7 lavishly appointed rooms including luxurious suites and a lovely spa. This hotel is perfect for those escaping the city madness and looking for some me time!
Where | District Kangra
Browse Through Their Website | http://www.avedahotels.com
Contact Them On | +91 18 9222 3000
3. The Exotica Dharamshala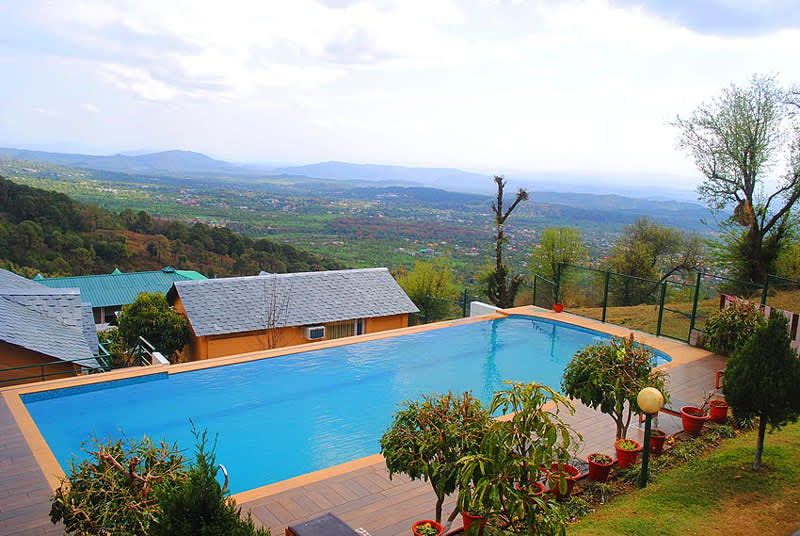 Experience a stay that will leave you mesmerised, a resort like no other filled with tranquility, in the snow covered ranges of Dharamshala. This resort has luxury rooms and cottages, with a scenic view of the mountains. There is free wifi, a lovely swimming pool and a hearty breakfast available too.
Where | Village Tohu, Indru Nag Road
Browse Through Their Website | http://www.exoticaresorts.com
Contact Them On | +91 9857 585 960
4. Rakkh Resort
This resort is perfect for a family holiday in the hills with 15 beautifully appointed cottages, and 2 interconnecting rooms dotted around the 4 ½ acres! With activities like mountain biking, rock climbing and camp skill workshop for teenagers, you'll never get bored here!
Where | Ghamrota Village Post Office Ballah, Tehsil Palampur, District Kangra
Browse Through Their Website | http://www.rakkh.com
Contact Them On | +91 8800 409 567
5. BEST WESTERN Indraprastha Resort and Spa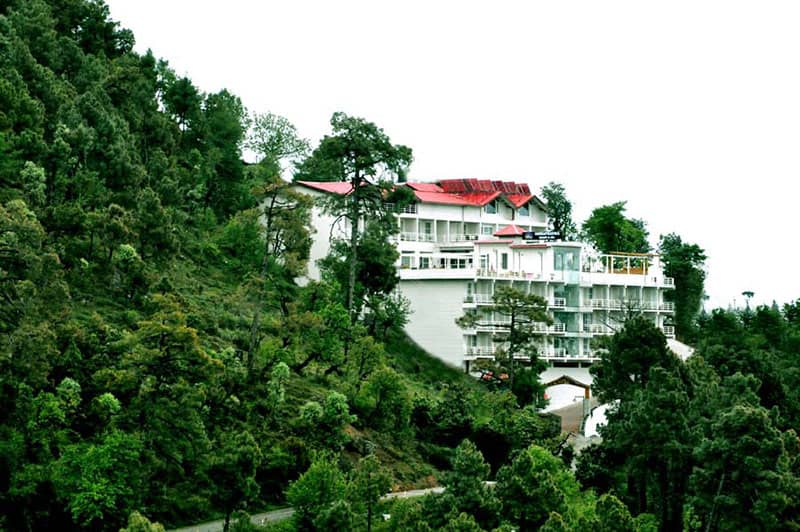 Take a breath of the soothing mountain air and experience the flickering daylight at the Best Western Resort. The place has everything you can imagine and more with a lovely bar lounge, a swimming pool overlooking the mountains and a good variety of food.
Where | Strawberry Hills, Near Dal Lake
Browse Through Their Website | http://www.hotelindraprasthadharamshala.com
Contact Them On | +91 9805 251 111
6. Fortune Park Moksha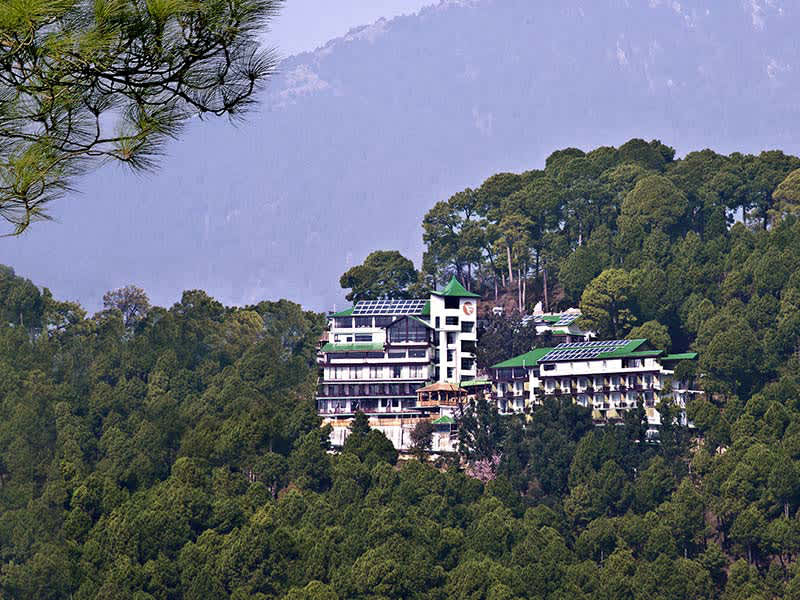 Nestled in the picturesque strawberry hills, Fortune Park Moksha features 59 rooms offering breathtaking views of the surrounding mountains and the valley. The buffet breakfast, swimming pool, recreation area and the 24×7 room service make the vacation even better!
Where | Strawberry Hills, Satobari, Near Dal Lake
Browse Through Their Website | https://goo.gl/DQAbeH
Contact Them On | +91 18 9224 2424
7. WelcomHeritage Grace Hotel
This hotel is a 200 year old country manor house built in traditional hill architecture with beautiful rooms and breathtaking views of the Kangra Valley and Pongdam Lake. It has a vintage vibe to it, with an old world charm which is the main highlight of the hotel.
Where | 558, Old Chari Road
Browse Through Their Website | https://goo.gl/JsZGD9
Contact | +91 18 9222 3265
Take that much deserved weekend off for pampering yourself amidst the hills with the best hotels and resorts in Dharamshala.